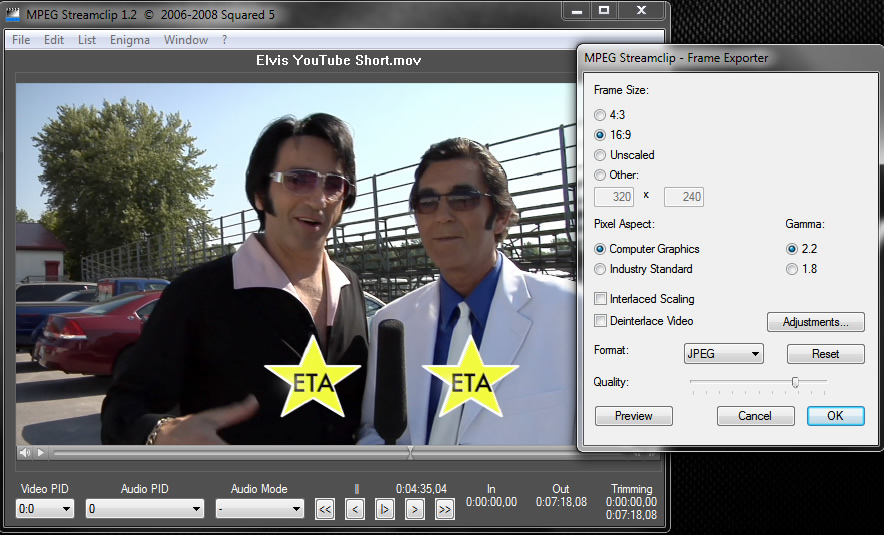 You can easily export (or freeze) frames of video and save them as a still image with a free application called MPEG Streamclip by Squared 5. It's a free download and is available for Mac and PC users at www.squared5.com.
Editors note: Google 'MPEG Streamclip' for a download link but beware the site has no SSL certificate (no https). I downloaded the app years ago and have had no problems.
Once you download and install the program you must first import your movie. Open MPEG Streamclip then select:
1. File> Open Files> and select your movie.

2. Play your movie and pause it when you get to the frame you wish to save as a still photo.

3. Select File> Export Frame.

4. The Frame Exporter window will appear (see photo above) loaded with options. You can select 4:3 or 16:9 format (widescreen). You can custom size your exported image by selecting 'Other' and keying in the image size you want.

5. If your video is interlaced (such as 720x480i) you can select 'deinterlace' to remove fuzzy horizontal lines. If you have HD video such as 720p you can leave blank since this video is progressive and doesn't need deinterlacing.

6. You can make many adjustments to the photo by selecting Adjustments. Brightness, Contrast, Saturation can all be fine-tuned here. Volume adjustment is used when converting video files so leave this unchanged.

7. A preview window is available to see your photo adjustments.

8. Select your desired quality. Remember- higher quality results in larger file size. Here we are dealing with single frames of video so file size is not usually a problem. Also select JPEG, TIFF or PNG.

9. Select OK and where you wish to save the final still image…that's it!
MPEG Streamclip can do a host of other functions like converting video files into other formats. But if you are looking for a fast and easy way to freeze video frames this is a great way to do it, inexpensively. If you are looking for photos for the web the exported photos are usually high enough resolution to work fine!
Hope this works for you!