Finally! A Full Color SEO Book for Canadian Business in 2021!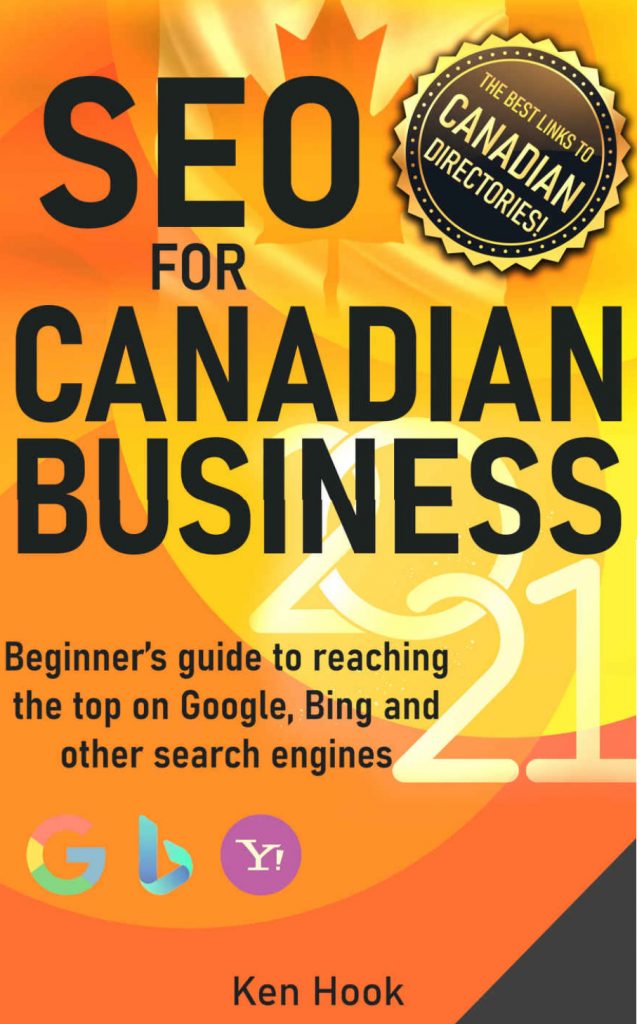 RANKING AT THE TOP OF GOOGLE IS LIKE MONEY-IN-THE–BANK!
Getting a #1 ranking on Google gets your business noticed, and research indicates the top listing receives at least 30% more visitor clicks. Quite simply, the top position gets more traffic. It doesn't matter what kind of website you have; I want to get your business in that #1 spot!
This first edition is written by a Canadian for Canadians!
Filled with Canadian examples, this easy-to-follow guide will help you rank higher and beat the competition, no matter how big! Starting at the beginning, I will explain the myths of SEO and guide you through the SEO process in a step-by-step manner. If you are thinking about starting a website or if you already have an established website, this book can help you.
Have you asked these questions about your website?
1. Why does my site rank lower on Google than my competition?
There may be several reasons – least of all your business size! Often, small businesses can outrank much larger companies in search engine listings. Yes, David can beat Goliath – this book will show you how. Ranking is all about your website and your SEO!
2. Can I check my level of SEO? Is it poor and hurting my rankings? Can I check my competitor's SEO?
There are several ways to check your website SEO – I show you how. A quick indicator is your meta-title on each webpage – the most important SEO element. Each meta-title should be unique and written in a specific format. I explain in detail about writing 'killer' meta-titles and meta-descriptions that can give you a SEO boost, quickly!
3. Has my website designer implemented the best SEO on my site?
Probably not. Most website designers only have a basic understanding of SEO. It does not take long to find major SEO deficiencies on professionally designed websites that are hurting business rankings in search engine results. However, most deficiencies can be fixed by business owners. I will show you how to take control of your SEO and website ranking!
What are some of the SEO topics this book covers?
Tailored to Canadian businesses – I list the top Canadian web directories to submit your URL
Google Analytics – the number one, free tool that tells you who is visiting your website, for how long, and even how they found you
Alt attributes – these are often overlooked, especially by website designers
Optimizing images – what does 'optimizing' mean and why this is important
Links – inbound, outbound and internal ones.
Page Speed – what it is and why Google thinks it is so important
SSL Certificates – why every website needs one today
Canonical tags – we use these because search engines do not like duplicate content
Robots.txt file – sounds complicated but really, it's not
SEO and social media – SEO is not just for your website, but also for social media posts
Sitemaps – why these roadmaps to your website are key to getting your new content found quickly
How to list your business with Google My Business, Google Maps, Bing Places for Business and Bing Maps
Google Ads – if you have good SEO, do you need a Google Ad?
Once you know what to look for, implementing SEO is easy and can be done every time you create a new page or post.
If you wish to make your website the most powerful sales and marketing tool you will ever own – click here to order on Amazon and get found on the Internet! Kindle edition is available with paperback coming in April 2021.