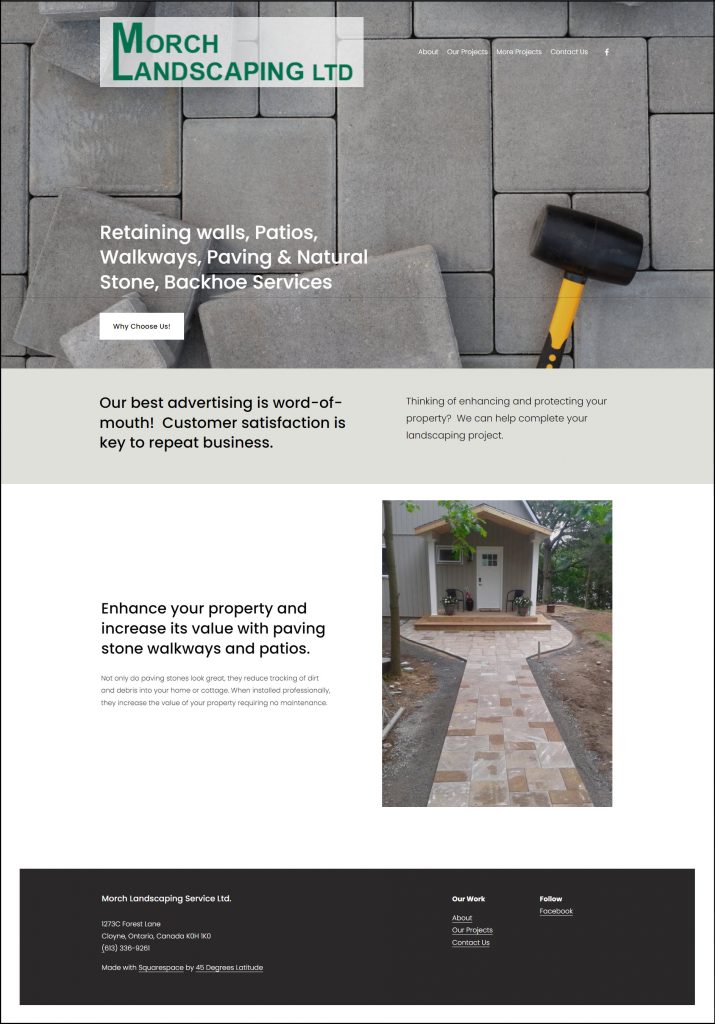 Morch Landscaping Ltd. needed a new website to market its services in the Cloyne area.
They help home and cottage owners design new paving stone walkways, retaining walls, and patios then professionally install the project. The company also performs precision backhoe excavating such as electrical and drainage trenches.
I suggested they use Squarespace.com as a website platform.  It's quick to set up and is user-friendly for business owners that may want to maintain the website themselves. In this case, I was hired to do the initial set-up which is quite often the case with business owners – they may be too busy or not comfortable with a new platform. Creating the site from one of many Squarespace templates is quick and with their package plans, a domain and SSL certificate are free the first year of hosting. Another benefit over a WordPress website is no plug-in or theme updates are required.
Squarespace has a Business plan that costs $23.00 US per month although you can save 30% annually if submitting the full yearly payment. Personal sites start at $14.00/month. Service is included. I found their chat line professional and willing to help with any problem. In Morch's case, we didn't need the e-commerce components available in the business package but it was included.
Their Help Center includes a ton of self-help videos for everything from formatting images to SEO to creating an e-commerce store. If business owners wish to maintain their sites this is a good platform to use.
Chip and Sharon have created many garden masterpieces with paving stones. Check out their website to see some of their projects!